End of 2018 Message from Kandi White, IEN Native Climate and Energy Campaign Coordinator
It's been a busy and fulfilling year within the Native Energy and Climate Campaign and the Just Transition and Keep It In the Ground work within. Let's take a look back at 2018 to some of our highlights!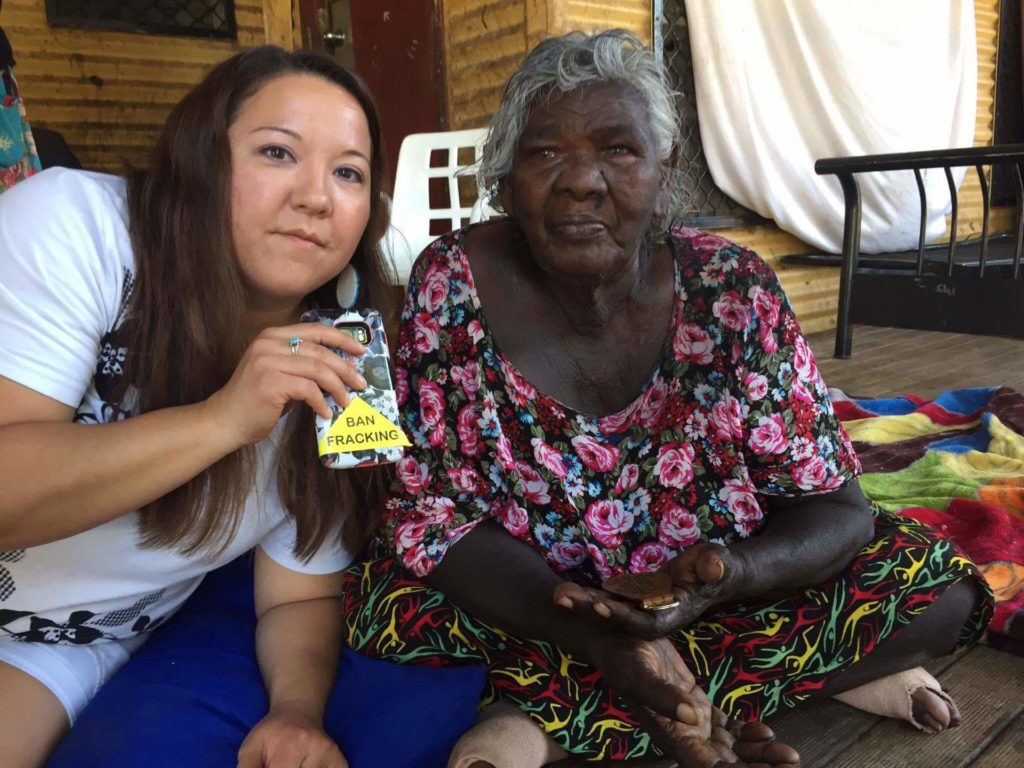 In January 2018 members from the SEED Indigenous Youth Climate Network from Australia made the long trip to the bakken oil fields in North Dakota as part of the continued solidarity work on the campaign against fracking in the Northern Territory of Australia. Kandi traveled to Australia in July of 2017 to share the realities of fracking with the land owners and communities being pressured to allow fracking on aboriginal lands. As a result of that trip the youth traveled to the U.S. to see the impacts of fracking in the bakken oil fields firsthand. Please watch and share the 'Water Is Life' mini documentary that was produced as a result of both trips from the Northern Territory of Australia to the state of North Dakota in the U.S.: https://vimeo.com/261023308. (Image above) To learn more about how to support the fight against fracking in the Northern Territory please click here: http://dontfracktheterritory.org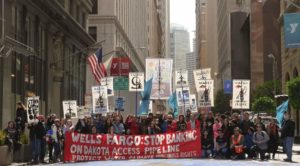 In February Indigenous leaders and youth and environmental and climate justice activists led a demonstration in the Financial District of San Francisco to urge Wells Fargo to divest from fossil fuel development, specifically the Keystone XL pipeline, which will carry Tar Sands oil across the Turtle Island, endangering our communities, the water, the land and the climate. (See above and there's also a video we produced on IRM Facebook.)
In March we had our IEN staff & board meeting in Arizona were happy to have Havasupai Tribal Council Rep and amazing uranium fighting warrior woman Carletta Tilousi as a special visitor.  Please watch and share the 'Too Precious to Mine' video and learn what action you can take to help in their fight:https://www.grandcanyontrust.org/too-precious-mine (See image above).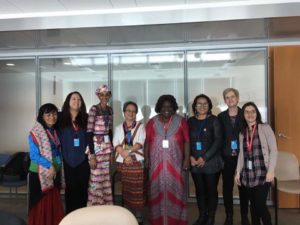 In April IEN participated in the Permanent Forum on Indigenous Issues as part of the International Indigenous Women's Delegation in partnership with MADRE and Rosa Luxembourg. Among the several side panels, press conferences and meetings Kandi also submitted an intervention on the harmful impacts of fracking to human health with an emphasis on harm to women's reproduction. The women's delegation was also able to meet the Special Rapporteur on the Rights of Indigenous Peoples, Vicky Tauli-Corpuz, to present the situation of Indigenous women and girls in the extractive development model.  Kandi was also able to deliver the Banking on Climate Report to the Special Rapporteur. (See image above) Nepal (Yasso Bhattachan). U.S. (Kandi Mossett), Cameroon (Aehshatou Manu), U.N. Special Rapporteur (Vicky Tauli-Corpuz) Africa (Lucy Mulenkei), Nepal (Kamala Thapa) RLS Director Stefani Ehmsen and MADRE Director Natalia Caruso.
In May we celebrated a temporary victory when Louisiana's 23rd Judicial District Court ruled against Energy Transfer Partners setting the stage for the suspension of a key permit that was needed to construct the Bayou Bridge Pipeline in St. James and other areas in eastern Louisiana.  The court ruled that ETP must create environmental protection and emergency evacuation plans and have them approved by the Department of Natural Resources before the permit could be reinstated. Please continue to support the fight against the Bayou Bridge Pipeline here: NoBBP.org and www.nobayoubridge.global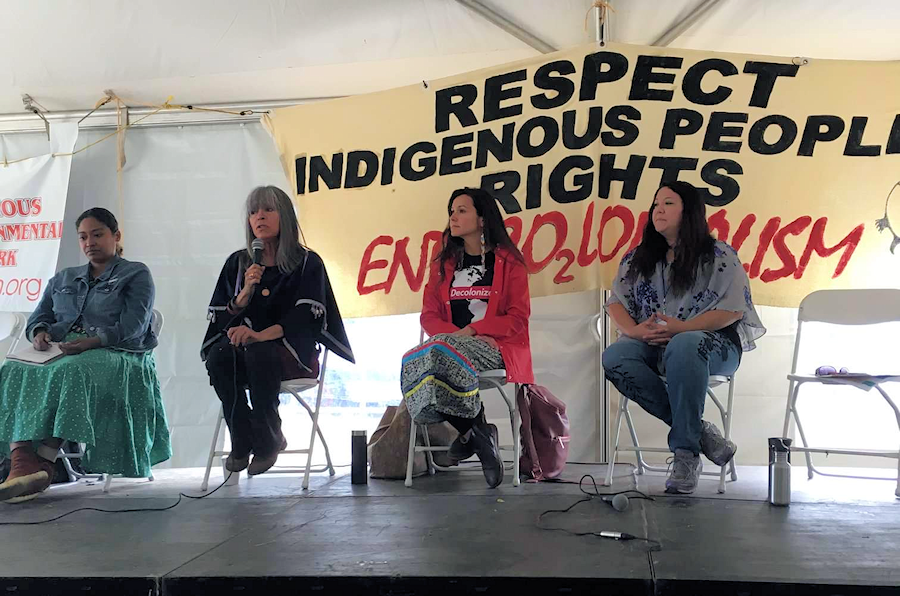 In June & July hundreds of Indigenous People and allies from around the world joined us for the 17th Protecting Mother Earth Gathering held in Nisqually Territory in Washington State at the Historic Franks Landing site which consisted of 60 plus pleanaries, workshops, and panels on topics such as, Living in the Belly of the Beast: Extraction, Refinement and Just Transition, Patriarchy is Colonization: Indigenous Feminism 101, Non-Violent Resistance, Impacts of Mining on Aboriginal Communities in Australia, Defending the Defenders, Building Black, Brown Indigenous Solidarity and much, much more. The Just Transition Plenary was packed to capacity and led by an all women panel of fierce defenders of the land including Jihan Gearon- Black Mesa Water Coalition Director, Dawn Morrison – Indigenous Climate Action Researcher,  Melina Laboucan-Massimo – Lubicon Cree Solar. (See image above).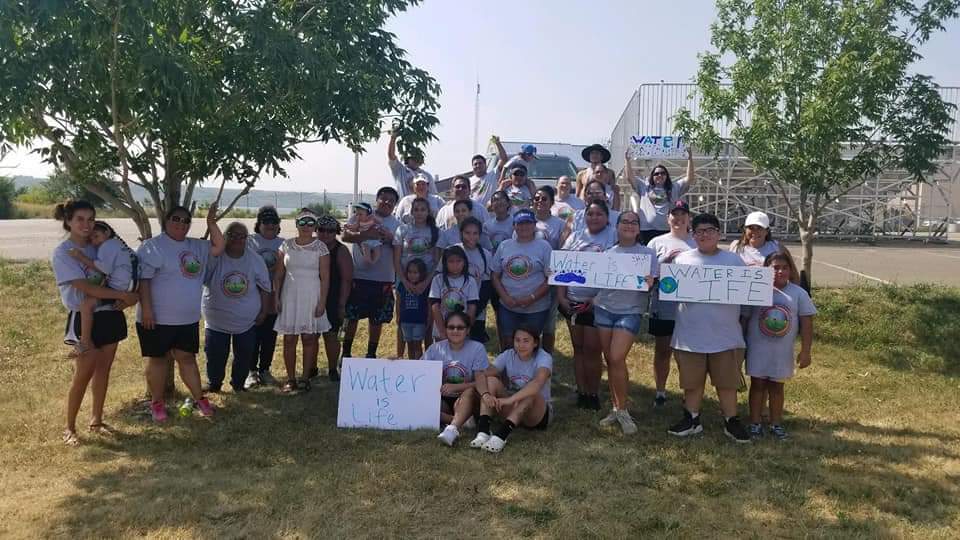 In August the Indigenous Environmental Network hosted the 4th Annual Water Blessing & Healing Walk in New Town, North Dakota to call awareness to the importance of the protection of the sacred waters of the Missouri River and Lake Sakakawea Reservoir being impacted by the bakken oil boom as as well as all waters downstream from the fracking. (See image above)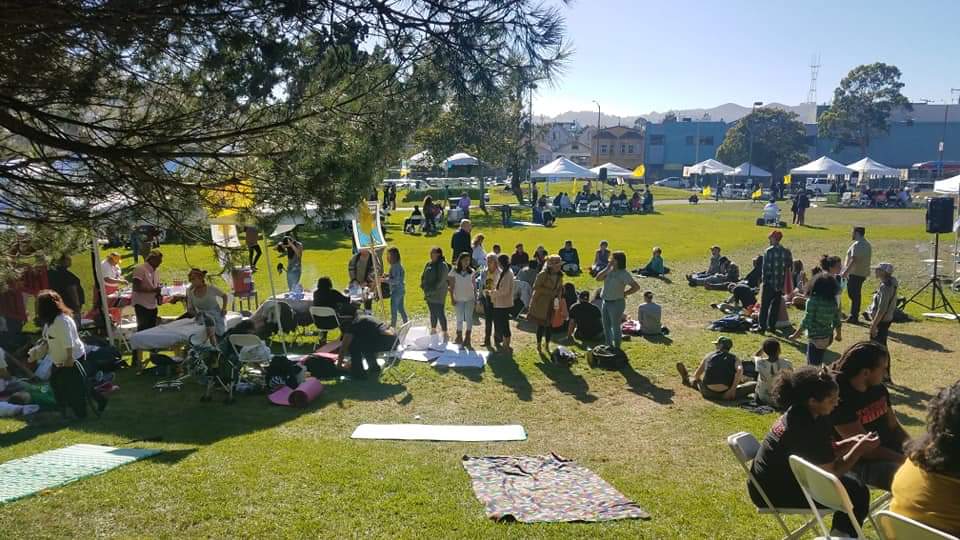 In September the It Takes Roots Alliance comprised of the Indigenous Environmental Network, Grassroots Global Justice Alliance, Climate Justice Alliance and Right to the City Alliance Co-hosted the Sol2Sol Week of Action including our own Climate Summit in response to the Global Climate Action Summit in San Francisco California. (See image above).
In October IEN participated in Get Out The Vote efforts to combat voter suppression and bring awareness to the power of the people at the polls. https://m.facebook.com/story.php?story_fbid=10108630606661873&id=1216853. We also gave an Indigenous perspective on a Just Climate Transition on Free Speech TV in Rising Up with Sonali: https://freespeech.org/stories/an-indigenous-perspective-on-a-just-climate-transition/. In addition the mini documentary 'Oil is Life' was re-released featuring Executive Director Tom Goldtooth showing the fracking in Big Spring, Texas and drawing the parallels to fracking in North Dakota and similar poisoning of water at the expense of life. We also hosted our leadership team meeting in our main offices in Bemidji Minnesota as the IEN strategic planning process continues to make our work as efficient and effective as possible.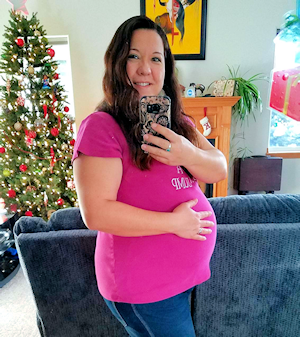 In November IEN traveled to COP 25 in Katowice, Poland. November also brought a huge victory as we declared a major win against California's Carbon Colonialism. Read more about that major victory here.
Last but not least here in December my husband, baby girl and I are very happy to share the news and announce that after trying for the past few years, with a heartbreak along the way, we are now expecting a baby boy on March 1st! We'd like to send a special thank you to all of the well wishers who sent their congratulations and support and we send our love and big hugs to everyone for a very Happy and Blessed New Year as the fight to speak on behalf of all those that can't speak for themselves continues until we see the Just transition we are fighting for! (See image above).